Descripción
SPECIFICATIONS:

Product Capacity

Built-in Memory :32GB* / External Memory : microSD Card

Display

2.8" Wide Angle Capacitive Touch LCD (240x320)

Dimensions & Weight

53.1mm(W) x 77.2mm(H) x 14.9mm(D) / 94g

Buttons

POWER, PLAY/PAUSE, VOL+, VOL-, FF, REW

File Formats

FLAC / WAV /AIFF/ ALAC / APE / MP3 / WMA / OGG**

Audio

Audio Codecs

FLAC, WAV, AIFF, ALAC : ~24bit/192kHz




- 32bit WAV, WAV Tag Supporting




MP3 : MPEG 1/2/2.5 Layer 3, ~320kbps




WMA : ~320kbps, ~48kHz




APE : Fast, normal, and high compression rates (~16bit/48kHz)




OGG : ~Q10, ~44.1kHz

Lyrics

LDB, LRC

Jeteffect 5

48 Presets (44 Presets + 4 User Presets)




EQ 5 Band Equalizer (EQ Filter)




BBE+ BBE, Mach3Bass, 3D Surround, MP Enhance




Special Effect Reverb (9 modes)

Audio Characteristics

Snr

123dB

Thd+N

0.004% (24bit, 48kHz)

Stereo Crosstalk

-105dB

Output

1Vrms

Output Impedance

0.5Ω

Volume

100 levels

Battery & Power

Battery

Built-in rechargeable lithium polymer battery

Playback Time

Approximately 100 hours (mp3) / 51 hours (24bit, 96kHz, FLAC) ***

Charging Time

Approximately 3.5 hours (with 5V/1A or higher Micro USB DC adapter)

Output Port

Earphone Jack (3.5mm)

Player

Matrix browser, Multi-favorite

System Requirement

Cpu

Pentium lll 500MHz or higher

Os

Windows 8 / 7 / Vista / XP / 2000 / ME : All functions supported




MAC OS 10.x / Linux v2.4 or higher: File transfer supported

Usb Port

2.0 High Speed (recommended)

* Actual capacity may vary due to system memory used by the product.




** AIFF formats supported in the future.




*** The playback time is based on the company's own test standards, thus it may differ from the actual playback time.
Cowon Plenue D (PD) High Resolution 32GB Music Player with microSD Expansion Slot
Cowon wanted more people to experience the beautiful sound of the PLENUE series. So they set out on a mission to share the pleasure of listening to music in perfect high resolution sound on mid-range PLENUE device while retaining all the benefits of portable Hi-Fi audio. The PLENUE D is small and light, yet its powerful performance is capable of faithfully reproducing original studio sound anytime anywhere.

Pure 24bit/192kHz HD Sound
The PLENUE D supports 24bit/192kHz high-resolution audio to reproduce an uncompromising level of original sound. The superior quality of Hi-Fi original studio sound delivers a clearer, richer experience that capture the intent of the original artists and audio engineers. 24bit/192kHz high-resolution sound sources are the highest-quality audio used in a studio recording process. The PLENUE D provides an unmatched level of sound presence through the highest-quality audio expressing clearer vocals and richer, more magnificent session sound.
True to PLENUE's Reputation
The PLENUE D's SNR, THD+N, and crosstalk values, which quantify the performance of audio equipment, all exhibit excellence despite the PLENUE D's small and light form factor. The PLENUE D furthers the reputation set by the PLENUE line of products, boasting 123dB of SNR, 0.004% THD+N, and -105dB of crosstalk.
PLENUE D's Origins High-Quality 24bit/192kHz Stereo DAC
The PLENUE D is equipped with a high-quality 24bit/192kHz stereo DAC to faithfully reproduce 24bit high-resolution original studio-quality audio without distortion or loss of sound.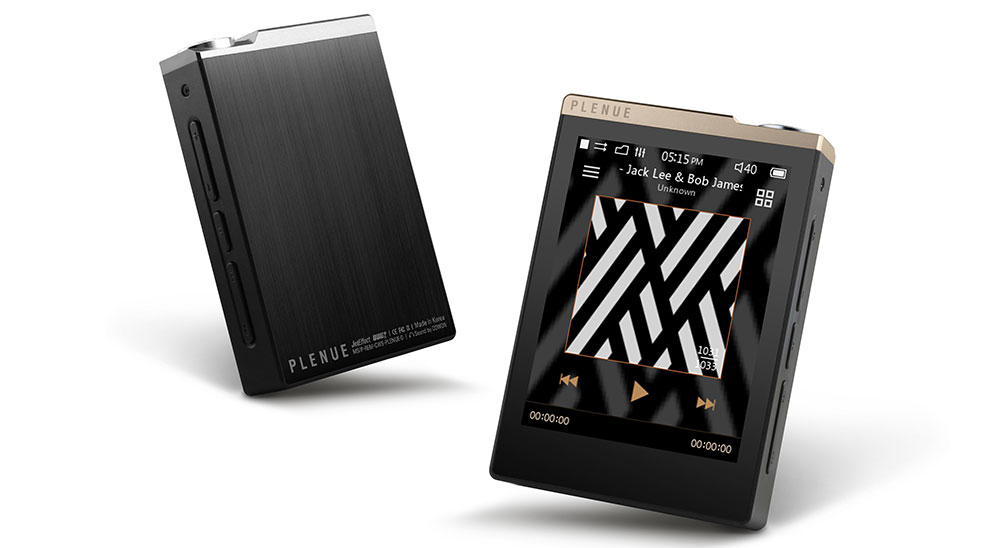 Maximising the Benefits of Portability
To play high-resolution original studio sound anytime and anywhere, the PLENUE D had to become smaller while retaining the ability to play back music for an extended period of time. Therefore, a power-saving circuit and battery were implemented to enable up to 100 hours of continuous playback. The PLENUE D is small enough to fit perfectly in the hand, and its high-strength aluminum top and back cover make it robust yet light. Now, the PLENUE D can be at your side without any restrictions on time and space.
Isometric Edge Design
Each surface of the luxurious isometric metal body was delicately cut to accentuate its intersecting edges. A round, metal power button was placed on the leveled-down area to minimise accidental operation while at the same time enhancing the PLENUE D's beauty. The stylish pure-black color adds to the PLENUE D's intense appeal, and the gold and silver accents of the metal top complement the design.
JetEffect 5, Another Criterion for Perfect Sound
JetEffect 5 and BBE+ combine to correct sound distortions and phase caused by either the physical limitations of a receiver or the listening environment and reproduce sound closest to the original studio recording. In addition, users can create their own optimal sound according to their personal preferences via the use of BBE+ and EQ filters.

Support for Lossless, Uncompressed High-Resolution Sound
Users can enjoy the highest quality music of a variety of genres through the perfect reproduction of 24bit/192kHz lossless and uncompressed formats such as FLAC, AIFF, and ALAC, APE, WAV, and MP3.
Robust Performance and 32GB + 128GB of Storage
The PLENUE D is capable of up to 100 hours of continuous playback for MP3 files and 51 hours for high-resolution lossless files via its power-saving circuitry and battery. It features 32GB of internal storage that can be expanded via a microSD card for increased flexibility in storage options.
Intuitive GUI and Wide Viewing Angle Touchscreen
The PLENUE D features a wide viewing angle display for reduced color distortions and crisp, clear image quality as well as an intuitive GUI for easy control of all music playback functions with minimal input. In addition, two skins are provided so that users can set up the music playback screen to their liking.

Multi-Favorites and Quick Search
The multi-favorite feature allows users to put their favorite music on multiple playlists, allowing for the creation of playlists of varying tastes. Furthermore, the search function enables quick access to the desired song.
Gapless Playback
The gapless playback feature seamlessly plays the next track to provide listeners with the feeling of a live performance as intended in the original composition.
Features
24bit/192kHz high-resolution audio from a variety of formats

JetEffect 5 and BBE+ to adjust player to personal preferences

Up to 100 hours of playback from one charge

Micro SD card slot for expandable memory options
Ver Todo
Cerrar